This page contains all of Sam's public writings in one stream. It has been broken it up into sections for different audiences and purposes. Some sections are empty and many of my old posts and writings are yet to be moved over to this new platform.
Oh, Nick, you've done it again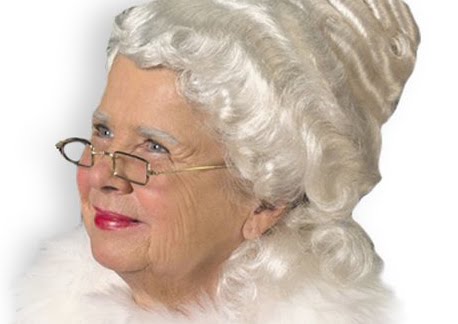 I do love my husband, Nick. He means so well, and his presence around the world and dedication really does mean a lot to a large number of people.
But you know, lately he's been getting ideas from reading people's christmas lists. They used to be such easy gifts for our troupe of elves to make, and for Santa to deliver. But around 2007, when we were making preparations to move our base of operations in preparation for the massive ice melt that was upon us, there was this one christmas list he read to me... it said, "All I want for Christmas is a binding agreement on carbon emissions from the world's leading emitters". Normally we just bin those and place coal in their stockings, but the irony of giving someone who wanted action on climate change a lump of coal... especially since they had, well, pretty much zero in the "naughty" deeds for the year... he changed.
In the coming years, he started reading more and more of the crazy people's notes to me. I tried to humor him and to play it down, reminded him that people have been asking for the US government to admit to not making it to the moon for decades, that alien landings had occurred. Of course we know the truth—there's no way you can make it around the world in a single night without advanced space flight, naturally, we even did a special trip to that rock in 1972 to drop some special gifts to Will, John and Floyd. So those didn't affect him in the same way.
One of them he read, "All I want is for an investigation into the truth behind 9/11—just some questions asked, that's all", after the elves refused to do anything which did not involve manufacturing, he actually took it upon himself to do, calling it "a prima facie valid question"
Hours he watched YouTube videos such as Loose Change, reading on the internet, and even attended seminars by Richard Gage. I tried to get help for him, I really did. And now look what he's written in the only newspaper that will take his columns. After I sent him to AE911Truth.info, that he didn't read, dismissing it as "nonsense from the inside" while I watched him immediately go back to his favorite sites.
I tried to tell him that the intelligence community sends through dozens of warnings which don't eventuate in an attack, and that the August 6th briefing was probably just a case of "crying wolf". And so it is true that instead of going after the person actually responsible for the deaths of these 5,000+ people, they went after someone they thought was involved but turned out not to be. "Nick", I said, "you remember 1988, how we gave Saddam a lump of coal for every Kurd he ordered poisoned in Iraq?" Something had to be done, if you ask me. The war was disastrous for the people, but as Christians we know that those innocents often get a free pass to heaven if they are caught in the crossfire like that. And of course the Whitehouse entertained the leaders of these people from around the world—how many nations smiled politely and looked the other way while they entertained Gaddafi and his tent full of women? Some things you just have to do in international politics. Mr. Bin Laden was mild–mannered in comparison.
I told him that the physics of impacts can lead to greater temperatures than possible by combustion of jet fuel. I told him that the X–ray technique used to identify the material in the dust "nano–thermite" was incapable of distinguishing between thermite and mica, and that they'd probably just found the paint used to cover the beams.
I sent him a Janurary 2002 scientific paper explaining why it was that the building did not fall like a tree, but mostly straight down: that's the physics of large structures! I pointed out how it explained that the "2 or 3 times the strength they needed to be" of the structure was an order of magnitude below what it would need to have been to stop the falling mass of steel and concrete. And when I told him about how the "live cross" from the BBC was actually in a studio... he accused me of believing in fairy tales! Honestly! Santa Claus really accused me of that!
Thankfully, he usually shuts up when I ask him to name me one person who has been labeled an "enemy combatant" or disappeared for "asking simple questions".
I just hope it doesn't get in the way of his work.
Mrs. Claus
cut up backup tapes
the cut up words of William S. Burroughs and John McAfee
From symbiosis to parasitism
The odyssey Sam and I have been on
a short step did not begin after the death of Mr Faull
The word is now a virus.
it began on October 15 this year,
an aborted raid by the police of San Pedro and Belize City.
Since that time
Victimless crimes are the lifeline
we have been on and off the run from the RIGHT virus.
Since April of last year the Belizean government
has been trying to level charge after charge against me,
all of them groundless,
the right to mind one's own business is recognized
the whole shit disposition
none of them sticking
is untenable and Hell hath no vociferous fury than
The reason I avoided the authorities
an endangered parasite.
I believe then, and I believe even stronger now,
the intent to question me
Modern man has lost the option of silence
nothing to do with Mr Faull's murder
And there is a growing recognition,
I simply would like to live comfortably day by day,
even in official quarters, that victimless crimes
fish, swim, enjoy my declining years,
My long-term plan was simply to get away from Belize,
think, and decide
should be removed from the books
subject to minimal penalties
I took drugs constantly, 24 hours of the day.
Because I'm creating an imaginary — it's always imaginary — world
I took them for years and years.
I was the worst drug abuser on the planet
in which I would like to live.
El Sobrante 2012 Signature
A form on the internet asked me to enter a signature into a text field. So, I enter a link to this page as a "signature".
Verification instructions for Unix command-line:
$ gpg --recv-key 0x176D68BDF01AD228
gpg: requesting key F01AD228 from hkp server pgp.net.nz
gpg: key F01AD228: "Sam Vilain <sam@vilain.net>" not changed
gpg: Total number processed: 1
gpg:              unchanged: 1
$ curl http://vilain.net/talk/fit/el_sobrante_2012/waiver.html |
     gpg --verify
  % Total    % Received % Xferd  Average Speed   Time    Time     Time  Current
                                 Dload  Upload   Total   Spent    Left  Speed
100 15077  100 15077    0     0  25369      0 --:--:-- --:--:-- --:--:-- 33957
gpg: Signature made Fri Dec  9 12:53:24 2011 PST using RSA key ID F01AD228
gpg: Good signature from "Sam Vilain <svilain@saymedia.com>"
gpg:                 aka "Sam Vilain <sam@vilain.net>"
$

-----BEGIN PGP SIGNED MESSAGE-----
Hash: SHA512

By indicating your acceptance, you understand, agree, warrant and
covenant as follows:

WAIVER: This is a legal document, read carefully. I herby waive and
release, indemnify, hold harmless and forever discharge Wolf Pack
Events, East Bay Municipal Utilities District, the city of El Sobrante
and its agents, employees, officers, volunteers, directors, and
organizations affiliated with the race for any and all injuries
suffered by me at the race or en-route to and from the race event.  I
acknowledge that the race courses are on trails and shared by with
other park visitors, including; runners, hikers, bikers, and pets
including dogs.  I attest that I am physically fit and sufficiently
trained for this competition and a licensed M.D. has verified my
physical condition in the last six months.  I acknowledge that I have
read and understand all of the above.  I grant my permission to allow
photo and/or other video images of myself to be used for promotional
purposes.

ACTIVE REGISTRATION AGREEMENT AND LIABILITY WAIVER (the "Agreement and
Waiver")

1. Authority to Register and/or to Act as Agent. You represent and
   warrant to The Active Network, Inc. ("Active") that you have full
   legal authority to complete this event registration on behalf of
   yourself and/or any party you are registering (the "Registered
   Parties"), including full authority to make use of the credit or
   debit card to which registration fees will be charged.  As used in
   this Agreement and Waiver, Active refers to The Active Network,
   Inc. and any and all subsidiaries, affiliated entities, or entities
   that control or are controlled by Active singly or together and its
   officers, employees, contractors, subcontractors and agents.

   If you are registering a child under the age of 18 or an
   incapacitated adult you represent and warrant that you are the
   parent or legal guardian of that party and have the legal authority
   to enter into this agreement on their behalf and by proceeding with
   this event registration, you agree that the terms of this Agreement
   and Waiver shall apply equally to all Registered Parties. By
   registering a child under 13, you agree and consent to the
   collection of that child's information which you provide for the
   purposes of registration.

2.  Waiver.

   YOU UNDERSTAND THAT PARTICIPATION IN THE EVENT IS POTENTIALLY
   HAZARDOUS, AND THAT A REGISTERED PARTY SHOULD NOT PARTICIPATE
   UNLESS THEY ARE MEDICALLY ABLE AND PROPERLY TRAINED.  YOU
   UNDERSTAND THAT EVENTS MAY BE HELD OVER PUBLIC ROADS AND FACILITES
   OPEN TO THE PUBLIC DURING THE EVENT AND UPON WHICH HAZARDS ARE TO
   BE EXPECTED.  PARTICIPATION CARRIES WITH IT CERTAIN INHERENT RISKS
   THAT CANNOT BE ELIMINATED COMPLETELY RANGING FROM MINOR INJURIES TO
   CATASTROPHIC INJURIES INCLUDING DEATH.  YOU UNDERSTAND AND AGREE
   THAT IN CONSIDERATION OF BEING PERMITTED TO PARTICIPATE IN THE
   EVENT, YOU AND ANY REGISTERED PARTY, THE HEIRS, PERSONAL
   REPRESENTATIVES OR ASSIGNS OF YOU OR THE REGISTERED PARTY DO HEREBY
   RELEASE, WAIVE, DISCHARGE AND CONVENANT NOT TO SUE ACTIVE FOR ANY
   AND ALL LIABILITY FROM ANY AND ALL CLAIMS ARISING FROM
   PARTICIPATION IN THE EVENT BY YOU OR ANY REGISTERED PARTY.

3. Limitation of Liability; Disclaimer of Warranties. 

   ACTIVE SHALL NOT BE LIABLE FOR ANY DIRECT, INDIRECT, INCIDENTAL,
   SPECIAL OR CONSEQUENTIAL DAMAGES, RESULTING FROM (A) THE USE OR THE
   INABILITY TO USE ACTIVE OR (B) FOR THE COST OF PROCUREMENT OF
   SUBSTITUTE GOODS AND SERVICES OR (C) RESULTING FROM ANY GOODS OR
   SERVICES PURCHASED OR OBTAINED OR TRANSACTIONS ENTERED INTO THROUGH
   ACTIVE OR (D) RESULTING FROM UNAUTHORIZED ACCESS TO OR ALTERATION
   OF YOUR TRANSMISSIONS OR DATA, INCLUDING BUT NOT LIMITED TO,
   DAMAGES FOR LOSS OF PROFITS, USE, DATA OR OTHER INTANGIBLE, EVEN IF
   ACTIVE HAS BEEN ADVISED OF THE POSSIBILITY OF SUCH DAMAGES. YOU
   EXPRESSLY AGREE THAT USE OF ACTIVE IS AT YOUR SOLE RISK. ACTIVE IS
   PROVIDED ON AN "AS IS" AND "AS AVAILABLE" BASIS. ACTIVE EXPRESSLY
   DISCLAIMS ALL WARRANTIES OF ANY KIND, EXPRESS OR IMPLIED, INCLUDING
   WITHOUT LIMITATION ANY WARRANTY OF MERCHANTABILITY, FITNESS FOR A
   PARTICULAR PURPOSE OR NON-INFRINGEMENT.

   Active makes no warranty that the Active sites' services will be
   uninterrupted, secure or error free. Active does not guarantee the
   accuracy or completeness of any information in, or provided in
   connection with, the Active sites. Active is not responsible for
   any errors or omissions, or for the results obtained from the use
   of such information. You understand and agree that any material
   and/or data downloaded or otherwise obtained through the use of the
   Active sites is at your own discretion and risk and that you will
   be solely responsible for any damage to your own computer system or
   loss of data that results from the download of such material and/or
   data.

4. Indemnification. You agree to indemnify and hold each of Active
   harmless from and against any and all damages, costs, claims or
   demands, including reasonable attorneys' fees, made by any third
   party due to or arising from or relating to your use of Active or
   the violation of any term of this Agreement and Waiver as well as
   the Terms of Service located at:
   http://www.activenetwork.com/terms-of-use.htm by you.

5. Applicable Law; Consent to Jurisdiction. The Active sites
   (excluding linked sites) are controlled by Active from its offices
   within the State of California, United States of America. By
   completing this event registration, both you and Active agree that
   the statutes and laws of the State of California, without regard to
   the conflict of laws principles thereof, will apply to all matters
   relating to this event registration, this Agreement and Waiver, the
   Terms of Use or other use of the Active sites. You agree that
   exclusive jurisdiction for any dispute with Active resides in the
   courts of the State of California and you further agree and
   expressly consent to the exercise of personal jurisdiction in the
   courts of the State of California in connection with any dispute
   including any claim involving Active or its affiliates,
   subsidiaries, employees, contractors, officers, directors,
   telecommunication providers and content providers.

6. Severability. You further expressly agree that this Agreement and
   Waiver is intended to be as broad and inclusive as is permitted by
   the law of the State of California and that if any provision of
   this Agreement and Waiver shall be found to be unlawful, void, or
   for any reason unenforceable, then that provision shall be deemed
   severable from this Agreement and Waiver and shall not affect the
   validity and enforceability of any remaining provisions.

BY INDICATING YOUR ACCEPTANCE OF THIS AGREEEMENT AND WAIVER, YOU ARE
AFFIRMING THAT YOU HAVE READ AND UNDERSTAND THIS AGREEMENT AND WAIVER
AND FULLY UNDERSTAND ITS TERMS.  YOU UNDERSTAND THAT YOU ARE GIVING UP
SUBSTANTIAL RIGHTS, INCLUDING THE RIGHT TO SUE.  YOU ACKNOWLEDGE THAT
YOU ARE SIGNING THE AGREEMENT AND WAIVER FREELY AND VOLUNTARILY, AND
INTEND BY YOUR ACCEPTANCE TO BE A COMPLETE AND UNCONDITIONAL RELEASE
OF ALL LIABILITY TO THE GREATEST EXTENT ALLOWED BY LAW.
-----BEGIN PGP SIGNATURE-----
Version: GnuPG v1.4.11 (Darwin)

iQEcBAEBCgAGBQJP41+lAAoJEBdtaL3wGtIoqSkH/jK85tQniyIATAvNROE4irEZ
6kg7dv4Zg87+k0+0w668Bm9Y86YvNYDai5sRiO8w6SymRR0omG/5uGNvGHqzJyaj
ozbtYtgQbZxePfMAT+sJAqLpeUvkidKmoMCgmltA9Sun0Klw3cn0pTSZitgEAJ7j
wuWYUZTJ9Rx2cDy4++Re1sRuPpqn7tbEbzYDl1UOv6tso+KReejYqC40oIdVCEOs
fw+9gBY7g89HsT0x9ljLf1PJ+IhDyf0pJb9NKjLRIJrV62PdcjmkX+w14sykocGA
IyP0Jp6SwQ2NibWH1dA6UKinPL217Kyla5gB6eM/rXmpHLlrH7bIgQ9JEnwLPEQ=
=DvJs
-----END PGP SIGNATURE-----

Fact or Fiction—Chinese Medicine's San Jiao theory?
"Theory" is certainly not the right word from the perspective of mainstream medical culture. Most times it just refers to a body location. It's mostly terminology.
The Upper Jiao is essentially the Thoracic Cavity, and the Orophalanx (mouth basically). Everything above the diaphragm relating to Digestion and Circulation, and almost all of of the organs of Perspiration. It belongs alongside Thoracic Cavity in a Scientific Occidental Medical Practitioner, as an Organ Group.
The Middle Jiao is the core of digestion—Stomach, Liver particularly the closest cells to the Hepatic Portal, "Spleen" (digests red blood cells more efficently than the liver), and the Duodenum. Sparing the colourful descriptions, this is areas where food is mostly converted .
Finally, the lower burner is mostly dealing with slow extraction of less and less useful food matter, and includes the Ilium, Colon, and—along similar lines to the filtering of waste matter—the Kidneys. But also the Adrenal Complex.
Then, there's the part which is not a Theory, either—it's a more of a conjecture, scientifically speaking. It describes digestion, and some basic interactions between organs. Some of them are direct (such as the transferring of digestate from the middle to the lower jiao), and some more conceptual.
Acupuncture has been investigated in what could be called the history section of science—for instance at Cambridge in the early 20th, Joseph Needham or Gwei–Djen Lu as he became to be known left a tome of books called Science and Civilization in China which is fascinating in its own right, but a special one called Celestial Lancets for what was called "Occidental Medicine" or even "Eastern Medical Science" at the time by Western scholars. The most detailed reference translation between Eastern and Western medical concepts I am aware of is L'Acuponcture Chinoise, though I have only rarely delved into it. There's a nice vampire story in there, I would call it something of an Easter Egg for the observant (it's in a section of Chinese Medicine dealing with unusual forms of death).
But the books I read were much simpler, and written by later authors trying to leave less cryptic, though more approachable for beginner–level tertiery students. Books such as Zang Fu by Jeremy Ross and the Foundations of Chinese Medicine by Giovanni Maciocia. I have read a few of these books, though I decided that there were more pressing problems I needed to apply my life to than the relatively intellectual pursuit of Scientific development of Chinese Medical concepts. I've left my life of scientific pontification and petty miracle working that never was to join the "one—degree war".
I still find research in the field interesting, though.
I wrote up a Wikipedia page to go along with this image, and while despite my complaints about deletionism, much of the text I wrote seems to have been left intact since I wrote it to accompany the image in 2007 or whenever it was. I'll leave it for now on my own blog, I realise it is not currently citable material and missing some due diligence with citations. But the above books are a pretty useful set of general citations for this. Perhaps someone will one day verify it better.
San Jiao Theory
'''San Jiao''' is a term found in [[traditional Chinese medicine]] (TCM), as part of modelling the workings of the human body attempted by early Chinese medical writers. References to it can be found in the oldest Chinese medical texts available, including the ?Yellow Emperor's ?Huangdi Neijing.
San Jiao has been translated as "''triple heater''," ''triple warmer'' (or ''three warmers'')," and "''triple burner''," the latter of which is probably favored because of the involvement of the San Jiao in ?metabolism. The current WHO standard term is "Triple Energizer" (TE), but many authors still prefer to use San Jiao.
The San Jiao as a body model
There are three "burning spaces":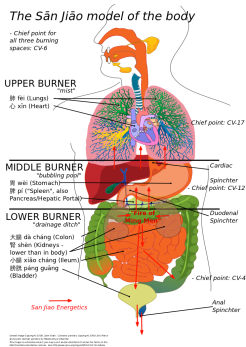 (svg source) This is a picture I drew of all of this as I was trying to wrap my own head around what it is. All the organ parts come from other free SVG files on WikiMedia. I uploaded it to WikiMedia, but unfortunately it didn't get the right MetaData to stick around; a copyright notice apparently not being enough. It probably counts as original research, anyway.
The Shang Jiao (upper burner) - corresponding to the thoracic cavity. This space includes Fei (lungs) and Xin (Heart), and is associated with respiration.
The Zhong Jiao (middle burner) - corresponding to the upper part of the dorsal cavity. This space includes Wei (Stomach), Pi (usually called "Spleen", but better called the "nutrient uptake system", eg in ?WMS terms the Hepatic Portal System, various secretory pancreatic cells, perhaps the duodenum, portions of the lymphatic system carrying ?chyle, as well as catabolic and transaminoic functions of liver cells) and is associated with digestion.
The Xia Jiao (lower burner) - corresponding to the lower part of the dorsal cavity. This space includes Xiao Chang (small intestine), Da Chang (large intestine), Shen (Kidneys), Pang Guang (Bladder) and is associated with elimination.

Other ?Zang Fu theory organs were not included in the San Jiao model.

The Hand ?Meridian (Chinese medicine) of San Jiao Shao Yang is so called because of its generalized effects across the San Jiao. San Jiao is not an ?organ (anatomy). In fact, many Zang Fu organ translations do not directly correspond with their defined western organ.

The Shao Yang channel is the second shallowest channel in the six divisions of ?Meridian (Chinese medicine), and its hand division - San Jiao - starts at the fingernail of the ring finger, travels up the outside center of the hand and arm, encompasses the elbow, continues to the back of the Acromio-clavicular joint (part of the shoulder), meeting with the other Yang channels at the junction of the seventh cervical and first thoracic vertebrae (GV-14 "da zhui"), before travelling up the neck to behind the ear, encompassing the external ear and terminating at outer tip of the eyebrow. Aside from Wai Guan (TE-5), its points' most common clinical uses are for local problems.

San Jiao relationships

In TCM theory, the San Jiao is a yang organ paired with the ?Pericardium (Zang) (Xin Bao) which is the yin organ associated with it. Yang (Fu) organs are typically hollow, whereas yin (Zang) organs are more solid. The triple burner, however, is said to be primarily energetic and does not have a physical component, unlike all the other organs in TCM. In ?dissection a body, one would not be able to find a structure that could be called the San Jiao.

The San Jiao's Hand-Foot partner is Dan (Gall Bladder).

San Jiao function

The San Jiao is also said to be a metabolism mechanism similar to an old-fashioned ?water wheel that is turned by incoming water and creates ?energy for accomplishing a task, such as grinding grain in the case of the water wheel, or for metabolising and ?digestion ?food in the case of the San Jiao. The San Jiao is closely associated with the ?Spleen (Zang) functions of transformation and transportation, particularly the metabolism of incoming food. The San Jiao is also closely associated with the ?Kidney (Zang)'s function in TCM. The San Jiao, however, is not limited to one metabolism function as the spleen or kidneys are, but is a general metaboliser which can be applied to a variety of metabolism needs.

This dual usage of San Jiao to refer to a specific metabolic function and to refer to the areas of the body is a source of confusion, and care should be taken to make it explicit which is being referred to.

San Jiao and Wu Xing

San Jiao is related to the fire element of the ?Five elements (Chinese philosophy).
Offsetting my Air Travel (and then some)
As many people know, I tend to fly around the world a lot. A long time ago, back in about 2006 or 2007 I think, I signed up with Dopplr and put my travel in there. I did this mostly so I could hook up with friends I knew online as I travelled around the world. Well, this only actually resulted in actual meetups with friends once or twice I can remember, notably a few cocktails with [Randal Schwartz](http://www.stonehenge.com/merlyn/ in Hawai'i during our respective travels across the Pacific in opposite directions.
But one thing it did get me in the habit of doing is recording my travel accurately. Especially air travel. And at some point, it started having carbon footprint reporting functionality integrated.
It's not 100% accurate, but it's a good approximation. For instance, the precise carbon footprint of an air flight would be dependent on the model of aircraft, how full loaded the aircraft was, even the flight time, path, etc. But such precision is not necessary for its use as a crude footprint tool.
But it did let me know that since I've been recording my travel, it has been been responsible for 25 tonnes of CO₂ emissions. I think I offset just one flight before.
Well, I just went and offset all 25 Tonnes of it. Of course buying offsets is all about buying them from the right place, and I found a great directory: the Carbon Catalog, which seemed to be very inclusive and included sites I'd heard positive reviews of before. Wary of the possibility that some programmes are not providing real offsets, I looked into a few of them, and preferred:
projects which I understood how the offsets worked to really result in a lower CO₂ levels in the world,

projects which had independent certifications, in particular the certification known as the "Gold Standard"

projects which did not sell credits for the lowest price, under the "too good to be true" principal.

companies based in countries that have an emissions trading scheme
The projects I chose were priced around US$10 - $20 per tonne, so my 25 tonnes come to about $350. Not bad really, especially if you consider that the actual cost of those flights and travel over those years could have been as high as $10,000.
And in fact, because it's Christmas, I went and bought my descendents a present - 25 tonnes of CO₂ offset I didn't need to purchase.
I chose these programmes:
I haven't yet crunched the numbers to see whether or not I'm carbon neutral or not, but my rough understanding is that air travel is by far the most substantial contribution to one's carbon footprint that there is. Plus there's all my travel before 2007 - notably two and a half return trips to the UK from New Zealand I need to offset - which I'll get to in time.
In the mean time, I've offset the lion's share of my carbon footprint for myself, and for one other person in the world like me who doesn't yet believe in this stuff, or at least not enough to spend good money on it.
And my new year's resolution? Well, all my fitness stuff is already taken care of, so I can't count that twice. So, I guess my new resolution can be to keep being carbon-negative.
I invite all those who are concerned about the future of the planet to join me in this pledge of double-offsetting.

-----BEGIN PGP SIGNED MESSAGE-----
Hash: SHA512

By indicating your acceptance, you understand, agree, warrant and
covenant as follows:

2012 Desert International and Sprint Triathlon Accident Waiver and
Release of Liability (AWRL)


I acknowledge that this athletic event is an extreme test of a
person's physical and mental limits and carries with it the potential
for death, serious injury and property loss.  The risks include but
are not limited to, those caused by terrain, facilities, temperature,
weather, condition of athlete, lack of hydration, equipment, vehicular
traffic, and actions of other people, including but not limited to
participants, volunteers, spectators, and event officials.  I hereby
assume all risks of participation in this event. I acknowledge that
this, Athletic Waiver and Release of Liability (AWRL) form, will be
used by the event director and event sponsors and that it will govern
my actions and responsibilities at said event(s).


I realize that liability may arise from negligence or carelessness on
the part of the persons or entities being released from dangerous or
defective equipment, property owned, maintained or controlled by them
or because of their possible liability without fault.


I certify that I am physically fit, have sufficiently trained for
participation in the event and have not been advised otherwise by
qualified medical personnel.


In consideration of my application and permitting me to participate in
this event. I hereby take action for myself, my executors,
administrators, heirs, next of kin, successors and assigns as follows:
(A) Waive, Disclaim from any and all liability for my death,
disability, personal injury, property damage, property theft and
actions of any kind which may hereafter accrue to me including my
traveling to and from this event, the following entities or persons:
Klein and Clark Sports, LLC, Greg Klein, Brenda Clark, the City of La
Quinta, Riverside County, Coachella Valley Water District, CA Hwy
Patrol, Riverside County Sheriff, all municipal agencies whose
property and/or personnel are used and other sponsoring and
co-sponsoring company(s), agency(s), or individual(s). (B) Indemnify
and Hold Harmless the entities or persons mentioned in the paragraph
from any and all liabilities or claims made as a result of
participation in this event, whether caused by the negligence of
releases or otherwise.


I hereby consent to receive medical treatment, which may be deemed
advisable in the event of injury, accident and/or illness during the
event.


The AWRL, shall be construed broadly to provide a release and wavier
to the maximum extent permissible under applicable law.  As a
participating athlete, I certify that all the information provided on
my race entry form is true and complete.  I have read this AWRL and
certify my compliance by my signature below.




ACTIVE REGISTRATION AGREEMENT AND LIABILITY WAIVER (the "Agreement and
Waiver")

1. Authority to Register and/or to Act as Agent. You represent and
warrant to The Active Network, Inc. ("Active") that you have full
legal authority to complete this event registration on behalf of
yourself and/or any party you are registering (the "Registered
Parties"), including full authority to make use of the credit or debit
card to which registration fees will be charged.  As used in this
Agreement and Waiver, Active refers to The Active Network, Inc. and
any and all subsidiaries, affiliated entities, or entities that
control or are controlled by Active singly or together and its
officers, employees, contractors, subcontractors and agents.

If you are registering a child under the age of 18 or an incapacitated
adult you represent and warrant that you are the parent or legal
guardian of that party and have the legal authority to enter into this
agreement on their behalf and by proceeding with this event
registration, you agree that the terms of this Agreement and Waiver
shall apply equally to all Registered Parties. By registering a child
under 13, you agree and consent to the collection of that child's
information which you provide for the purposes of registration.

2.  Waiver.

YOU UNDERSTAND THAT PARTICIPATION IN THE EVENT IS POTENTIALLY
HAZARDOUS, AND THAT A REGISTERED PARTY SHOULD NOT PARTICIPATE UNLESS
THEY ARE MEDICALLY ABLE AND PROPERLY TRAINED.  YOU UNDERSTAND THAT
EVENTS MAY BE HELD OVER PUBLIC ROADS AND FACILITES OPEN TO THE PUBLIC
DURING THE EVENT AND UPON WHICH HAZARDS ARE TO BE EXPECTED.
PARTICIPATION CARRIES WITH IT CERTAIN INHERENT RISKS THAT CANNOT BE
ELIMINATED COMPLETELY RANGING FROM MINOR INJURIES TO CATASTROPHIC
INJURIES INCLUDING DEATH.  YOU UNDERSTAND AND AGREE THAT IN
CONSIDERATION OF BEING PERMITTED TO PARTICIPATE IN THE EVENT, YOU AND
ANY REGISTERED PARTY, THE HEIRS, PERSONAL REPRESENTATIVES OR ASSIGNS
OF YOU OR THE REGISTERED PARTY DO HEREBY RELEASE, WAIVE, DISCHARGE AND
CONVENANT NOT TO SUE ACTIVE FOR ANY AND ALL LIABILITY FROM ANY AND ALL
CLAIMS ARISING FROM PARTICIPATION IN THE EVENT BY YOU OR ANY
REGISTERED PARTY.

3. Limitation of Liability; Disclaimer of Warranties. 

ACTIVE SHALL NOT BE LIABLE FOR ANY DIRECT, INDIRECT, INCIDENTAL,
SPECIAL OR CONSEQUENTIAL DAMAGES, RESULTING FROM (A) THE USE OR THE
INABILITY TO USE ACTIVE OR (B) FOR THE COST OF PROCUREMENT OF
SUBSTITUTE GOODS AND SERVICES OR (C) RESULTING FROM ANY GOODS OR
SERVICES PURCHASED OR OBTAINED OR TRANSACTIONS ENTERED INTO THROUGH
ACTIVE OR (D) RESULTING FROM UNAUTHORIZED ACCESS TO OR ALTERATION OF
YOUR TRANSMISSIONS OR DATA, INCLUDING BUT NOT LIMITED TO, DAMAGES FOR
LOSS OF PROFITS, USE, DATA OR OTHER INTANGIBLE, EVEN IF ACTIVE HAS
BEEN ADVISED OF THE POSSIBILITY OF SUCH DAMAGES. YOU EXPRESSLY AGREE
THAT USE OF ACTIVE IS AT YOUR SOLE RISK. ACTIVE IS PROVIDED ON AN "AS
IS" AND "AS AVAILABLE" BASIS. ACTIVE EXPRESSLY DISCLAIMS ALL
WARRANTIES OF ANY KIND, EXPRESS OR IMPLIED, INCLUDING WITHOUT
LIMITATION ANY WARRANTY OF MERCHANTABILITY, FITNESS FOR A PARTICULAR
PURPOSE OR NON-INFRINGEMENT.

Active makes no warranty that the Active sites' services will be
uninterrupted, secure or error free. Active does not guarantee the
accuracy or completeness of any information in, or provided in
connection with, the Active sites. Active is not responsible for any
errors or omissions, or for the results obtained from the use of such
information. You understand and agree that any material and/or data
downloaded or otherwise obtained through the use of the Active sites
is at your own discretion and risk and that you will be solely
responsible for any damage to your own computer system or loss of data
that results from the download of such material and/or data.

4. Indemnification. You agree to indemnify and hold each of Active
harmless from and against any and all damages, costs, claims or
demands, including reasonable attorneys' fees, made by any third party
due to or arising from or relating to your use of Active or the
violation of any term of this Agreement and Waiver as well as the
Terms of Service located at:
http://www.activenetwork.com/terms-of-use.htm by you.

5. Applicable Law; Consent to Jurisdiction. The Active sites
(excluding linked sites) are controlled by Active from its offices
within the State of California, United States of America. By
completing this event registration, both you and Active agree that the
statutes and laws of the State of California, without regard to the
conflict of laws principles thereof, will apply to all matters
relating to this event registration, this Agreement and Waiver, the
Terms of Use or other use of the Active sites. You agree that
exclusive jurisdiction for any dispute with Active resides in the
courts of the State of California and you further agree and expressly
consent to the exercise of personal jurisdiction in the courts of the
State of California in connection with any dispute including any claim
involving Active or its affiliates, subsidiaries, employees,
contractors, officers, directors, telecommunication providers and
content providers.

6. Severability. You further expressly agree that this Agreement and
Waiver is intended to be as broad and inclusive as is permitted by the
law of the State of California and that if any provision of this
Agreement and Waiver shall be found to be unlawful, void, or for any
reason unenforceable, then that provision shall be deemed severable
from this Agreement and Waiver and shall not affect the validity and
enforceability of any remaining provisions.

BY INDICATING YOUR ACCEPTANCE OF THIS AGREEEMENT AND WAIVER, YOU ARE
AFFIRMING THAT YOU HAVE READ AND UNDERSTAND THIS AGREEMENT AND WAIVER
AND FULLY UNDERSTAND ITS TERMS.  YOU UNDERSTAND THAT YOU ARE GIVING UP
SUBSTANTIAL RIGHTS, INCLUDING THE RIGHT TO SUE.  YOU ACKNOWLEDGE THAT
YOU ARE SIGNING THE AGREEMENT AND WAIVER FREELY AND VOLUNTARILY, AND
INTEND BY YOUR ACCEPTANCE TO BE A COMPLETE AND UNCONDITIONAL RELEASE
OF ALL LIABILITY TO THE GREATEST EXTENT ALLOWED BY LAW.
-----BEGIN PGP SIGNATURE-----
Version: GnuPG v1.4.11 (Darwin)

iQEcBAEBCgAGBQJO4nVEAAoJEBdtaL3wGtIoPAsH/2OSeg1Zni7xu1TRGq+Yx4wO
JsLHbugLdcuHtDFOq8cBuTXYCqLjKyLsH2YzD9IcQAf4pbbdHLt0/6SwmyjevvZs
aliruP0yZxDLzJXJJRhgdrV4R0V0XVzXsZY/IAiesIQrE76TLNR7yFjw6lcFdbXT
Xl5/Lrnxai6m8o4TPROSxyChfFfu8XS5Jl6nVkU4EKGL7eczok3Pu3oh1p8u5eIi
2TH68iEIHM10HO0Pr6jEGLru42TjqHkGe8/evQzLv82n4GJ2N1qv+MOgmWVUCLZJ
uT+h9MQF9C89J8e2EH8dX7u5fcT8+dWV/6SladtSEUa+mupYKR6mNAgK7JaJW7Q=
=pyxs
-----END PGP SIGNATURE-----

La Quinta 2012 Signature
Verification instructions for Unix command-line:
$ gpg --recv-key 0x176D68BDF01AD228
gpg: requesting key F01AD228 from hkp server pgp.net.nz
gpg: key F01AD228: "Sam Vilain <sam@vilain.net>" not changed
gpg: Total number processed: 1
gpg:              unchanged: 1
$ curl http://vilain.net/talk/fit/la_quinta_2012/waiver.html |
     gpg --verify
  % Total    % Received % Xferd  Average Speed   Time    Time     Time  Current
                                 Dload  Upload   Total   Spent    Left  Speed
100 15203  100 15203    0     0  26596      0 --:--:-- --:--:-- --:--:-- 35438
gpg: Signature made Fri Dec  9 12:53:24 2011 PST using RSA key ID F01AD228
gpg: Good signature from "Sam Vilain <sam@vilain.net>"
$

SamV back-catalog now available
Just realised that a bunch of my projects are not online any more. Well, now they are back up via git dumb http at http://git.utsl.gen.nz/ - gitweb to follow.
Powered by ikiwiki