Vilain v Vodafone NZ Ltd
Long delay between updates intentional, for ironic effect.
Tomorrow, I have a court case with Vodafone NZ Ltd, over an extortionate roaming data bill.
Sure, sure, it's not like this is anything new or special, people have known about this for a long time. "highway robbery" writes one well-known industry commentator, showing that the mark-up is of the order of 100,000%. Yes, one-hundred, thousand percent. "Legal Theft", brands another. There are frequently stories in the papers, such as:
3News (article offline, I have only the synopsis) - Nicole Skews owes $6k after a month of using her phone overseas - $6000 Vodafone bill - what's up with that?
Stories abound in this iPhone users forum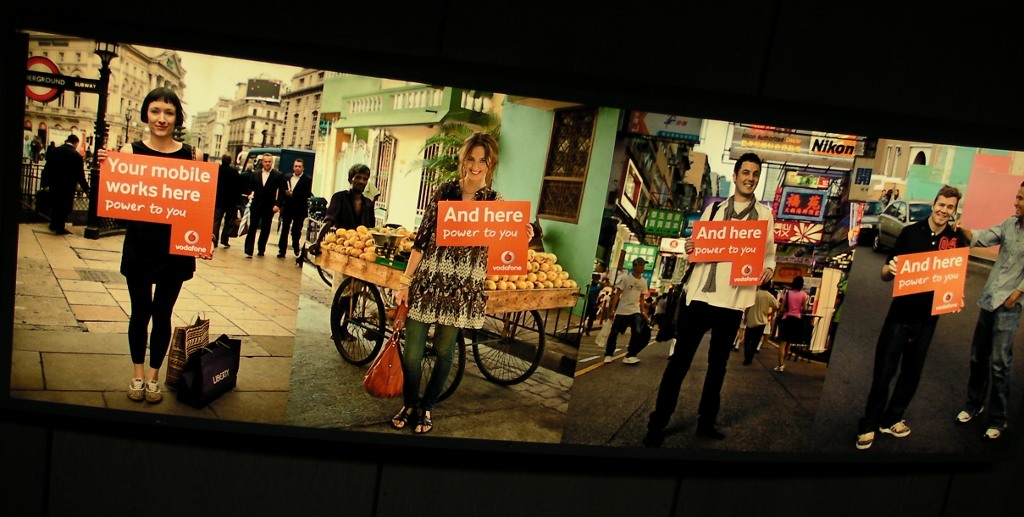 The large print: "your phone works everywhere in the world"
(picture of a Vodafone advertisement in Wellington airport)
There is an OECD report which found prices to be "unreasonably high". In the EU, regulation has been implemented, the body noting:
The problem of high charges for international roaming is not a new one. Over a number of years, the telecommunications industry has failed to bring roaming prices to the level that reflects the underlying costs of providing this service. ... It was against the background of complete lack of industry–driven progress over many years that the Commission decided that action was required.
So, it's not like I'm not aware of all of this. Far from it, I was acutely aware, and did everything I could to try to avoid it - apart from doing the sensible thing, which was closing my Vodafone account and switching to a pre-pay provider so this can't happen.
Big mistake.
My claims; or what went wrong
My claims revolve around two material breaches of fair trading practice;
Deceptive invoicing, and
Deceptive communication of roaming rates and charges.
Deceptive Invoicing
So, I was overseas, at sea aboard the Voyager (I'd got a cheap fare; can't complain at US$10/night), and I'd been using my data up that point, quite reservedly. My August Invoice came through.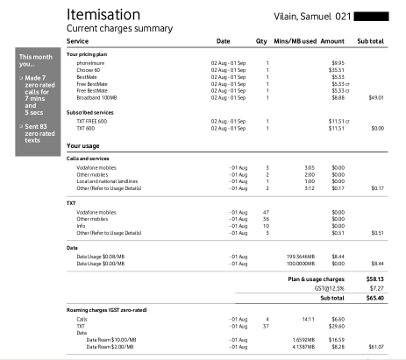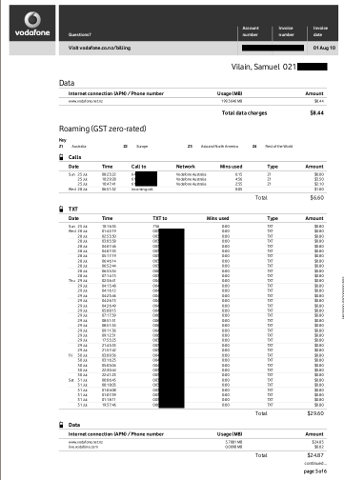 Pages from the Vodafone August Invoice
Let's take a look at the detail of that first section:

Look, the invoice covers the period up to the 1st of August.
And let's look at the detail of the roaming charges section:

At the time, I thought, well, that's not too bad, if that's my roaming charge up to the 1st, then it's not as bad as I thought it might be. I'll start using it more - but I'll start using the on-line self-service tool to make sure it doesn't get out of hand.
I would have been far more alerted to the seriousness of the situation, had it reasonably summarised the information actually available in their billing database, rather than collapsing it into a single figure:
| Country | Date | Operator | Usage (MiB) | Charge |
| --- | --- | --- | --- | --- |
| AUS | 2010-07-25 | Vodafone Australia | 4.12 | $8.24 |
| HKG | 2010-07-25 | SmarTone.2 | 1.66 | $16.59 |
That might have alerted me to the situation at hand: that the invoice does not include billing information which is yet to be forwarded from the other providers, despite;
This being the 21st Century, in an age where networks are fast, and able to transfer information like that in a near instant if properly configured to do so, and
There being details of other roaming use on the bill right up until the last day the invoice covers, and
There being absolutely no warning at all on the invoice that the information is not up to date.
Pre-pay operators being perfectly able to, in real time, stop you from using more data than you have credit.
As I was later to discover, here is a real picture of the charges I had racked up, by what I thought was conservative use of my phone (mostly doing map lookups, and use of navigate while driving a hire car):
| Country | Date | Operator | Usage (MiB) | Charge |
| --- | --- | --- | --- | --- |
| AUS | 2010-07-25 | Vodafone Australia | 4.12 | $8.24 |
| HKG | 2010-07-25 | SmarTone.2 | 1.66 | $16.59 |
| AUS | 2010-07-25 | Vodafone Australia | 4.12 | $8.24 |
| HKG | 2010-07-25 | SmarTone.2 | 1.66 | $16.59 |
| FRA | 2010-07-26 | SFR.2 | 2.01 | $20.12 |
| HKG | 2010-07-26 | SmarTone.2 | 13.34 | $133.44 |
| FRA | 2010-07-27 | SFR.2 | 35.63 | $356.30 |
| FRA | 2010-07-28 | SFR.2 | 2.64 | $26.43 |
| CHE | 2010-07-29 | ?? Swiss other | 1.85 | $18.47 |
| FRA | 2010-07-29 | SFR.2 | 0.90 | $8.96 |
| CHE | 2010-07-30 | ?? Swiss other | 1.90 | $19.02 |
| FRA | 2010-07-30 | ?? France other | 1.37 | $13.67 |
| FRA | 2010-07-30 | SFR.2 | 0.34 | $3.44 |
| ITA | 2010-07-30 | Vodafone Italia | 0.75 | $7.46 |
| FRA | 2010-07-31 | ?? France other | 3.24 | $32.42 |
| ESP | 2010-08-01 | Vodafone Espaol | 0.01 | $0.10 |
This information is right out of Vodafone's Billing Database, and it is almost certain that this is the information used to generate the invoices. If I'd have seen the first table, expecting to see usage more like the second table in terms of countries visited, then I could have been alerted to what was happening and curbed my use.
So, Vodafone, why didn't you break down the usage?
Here, I've broken down the usage by the originating country and network operator, as that is how it is displayed on their pricing schedule. It was trivial. SELECT ... GROUP BY, done. What is the problem?
After I submitted my letter, I got the excuse that "it would make the bill longer". A bill which frequently contains line items for calls and text messages of 0 cost - that counter-argument is empty.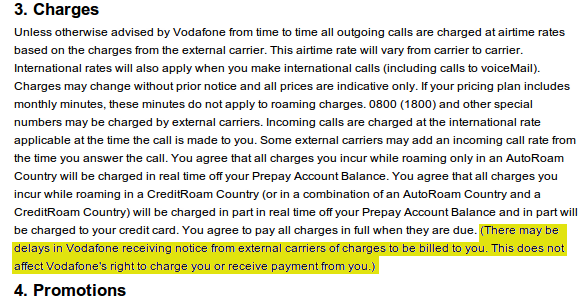 You got it buddy, the large print giveth, and the small print taketh away.
I now know (after being referred to the roaming T&C's by a Vodafone dispute manager) that this is mentioned, as a tiny little paranthetised comment buried deep inside some small print. Nonetheless it is my feeling that this level of miscommunication on the invoice is deceptively witholding essential information that Vodafone had about my usage, and therefore, under Part 1 s 9 of the 1986 Fair Trading Act and/or Part 4 s 30 (1) of the Consumer Guarantees Act 1993, constitutes "Misleading and deceptive conduct generally".
So firstly, I claim damages equal to the amount which the invoice purported to cover, but didn't. Which is the difference between the totals of the two above tables.
Deceptive Communication of Roaming Rates and Charges
During my travels, I travelled through a lot of different countries, and joined a lot of overseas networks.
I was greeted on joining each of them, with text messages like this:
25th July, 9:52AM: Vodafone welcomes you to Oz! For queries call us on 777. For voicemail call 707. International charges apply for both
25th July, 9:53AM: Data roaming charges r now just NZ$2/MB until 31Aug10 so u can work or play online. This is avail on ALL aussie networks &all devices. See vodafone.co.nz 4 info
25th July, 9:53AM: To pay your standard NZ home rate for calls made whilst in Oz get 'Traveller' our zone pricing for calling when overseas. For info go to vodafone.co.nz/travel
26th July, 2:26AM : You've arrived in Zone 3! To pay your std NZ home rate + $3 per min for calls from zone3, get 'Traveller' our zone pricing. For info go to vodafone.co.nz/travel
26th July, 2:26AM : 3G,V Live! & mobile data is available on SmarTone.2 enjoy these services remain on this network. Charges of NZ$10/MB apply & will b billed 2 yr NZ account
26th July, 2:27AM : Vodafone welcomes u to Hong Kong. 4 queries call us on …
Upon receiving notice of the $10/MB amount (still daylight robbery if you ask me), I complained on Twitter. I can't link to my comment, because I deactivated my twitter account for other reasons, but it drew this response from Vodafone, in particular Paul Brislen. Who, in the words of one well-respected figure in the IT industry, was tasked with "defending the indefensible". Paul Brislen no longer works for Vodafone, one of their PR guys informs me. But it is representative of the way that the telecoms industry justifies this price-fixing arrangement: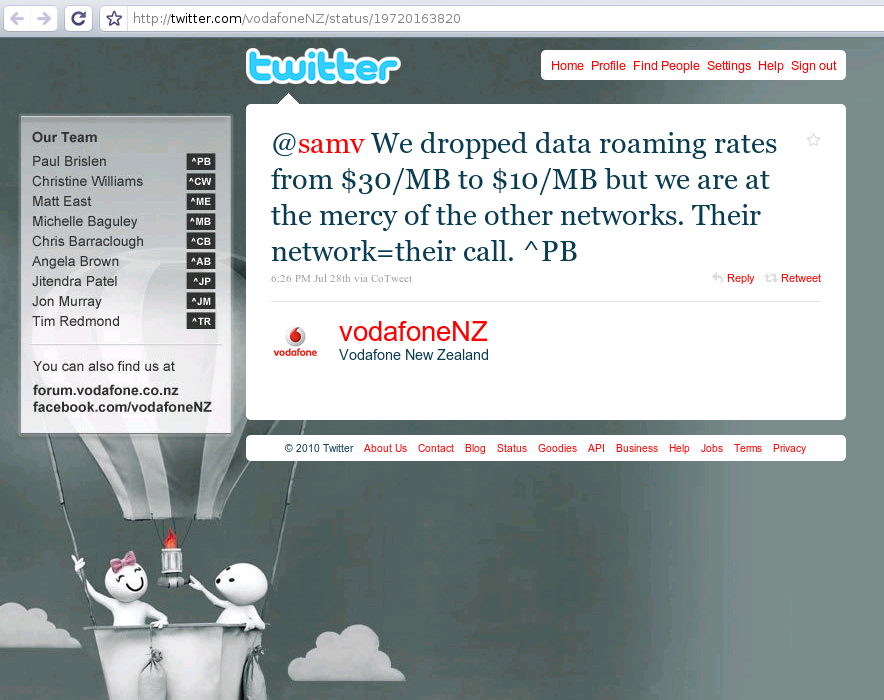 Oh, my. You poor largest mobile network operator in the world, you. Held hostage by those mean other networks. My subsequent challenges of this apologist rubbish of course went unanswered.
But anyway, moving on with my travels. I'd been through several countries now, and got many more of these welcome text messages letting me know the price of the service.
27th July, 7:39AM: Vodafone welcomes you to France! For queries please call us on 777. For voicemail call 707. International charges apply for both.
27th July, 7:40AM: You've arrived in Zone 2! To pay your std NZ home rate + $2 per min for calls from zone2, get 'Traveller' our zone pricing. For info go to vodafone.co.nz/travel
27th July, 7:40AM: 3G,V Live! & mobile data is available on SFR.2 enjoy these services remain on this network.Charges of NZ$10/MB apply & will b billed 2 yr NZ account
30th July, 4:05AM: 3G,V Live! & mobile data is available on Swisscom. To enjoy these services remain on this network. Charges of NZ$10/MB apply & will b billed 2 yr NZ account
I came to appreciate and expect these text messages as useful warnings of what fees my usage would incur; an expectation of communication standards was set by them.
I'd also been in countries with no Vodafone network up to this point - France and Switzerland. On the 1st of August, I stopped in Barcelona, and explicitly selected Vodafone Español. No messages were sent to my phone on registering on the Spanish Vodafone network.
On the 3rd of August, I arrived in Naples, and explicitly selected Vodafone Italia. Again, no messages were sent to my phone as the non-Vodafone networks had.
Interesting, I thought, so I tried logging onto the online usage tool. I don't have a screenshot of what exactly I saw, but I did notice that my monthly data allocation had started to move down. No roaming use was showing up since the 1st of August, which was what I'd been billed since, and I had only used Vodafone networks after that point.
I would have to eat the words of one of my earlier tweets, I thought. They had actually set it up so that I got local rates on Vodafone networks. Wonders will never cease, I thought.
However I was skeptical and checked my usage regularly over the coming days. No usage showed on the online usage tool for over a week. Related to the other claim is the observation that the online roaming data usage tool does not warn that data is incomplete.
The only feedback I got of my usage from Vodafone over this time was:
August 6th, 7:59AM: You've used 50% of your 100MB data bundle. When you exceed your data bundle out of bundle rates will apply. More details at vodafone.co.nz
August 10th, 8:00AM: You've used 100% of your 100MB data bundle. Out of bundle rates now apply. More details at vodafone.co.nz
Look at that! I'm using up my data allowance, I thought. Incredible.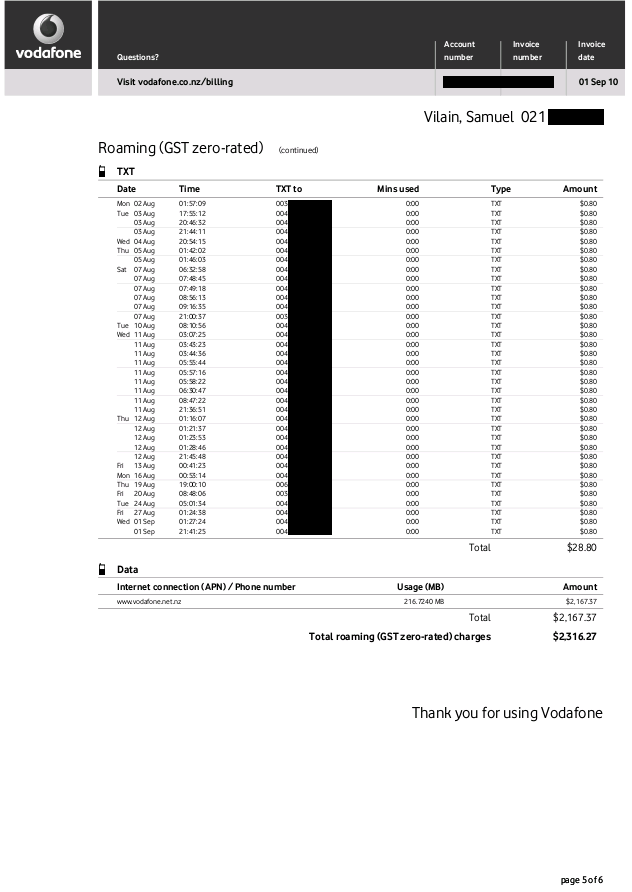 I think this is what is meant by "bill shock"
Well, it was too incredible to be true. Fortunately I was in London staying with family after that, so it was possible for me to avoid using mobile data. I got used to using tools like MobileAtlasCreator to download OpenStreetMap maps, so that I could have access to a core set of maps while offline - I used this to for instance keep a complete map of London in my phone. My mobile phone had "the knowledge". I called this and other efforts to concentrate the information that I normally accessed online into an offline format, my "Offline Data Plan". That aside, there was a total of $2,167 for mobile data on my September invoice, which I received while I was in Cork visiting a friend. The invoice is surreal, it had a detailed break-down of how many cents each SMS message I sent cost me, then a single line to tell me how many thousands of dollars my moderate mobile data use cost this month, and a big "Thank you for using Vodafone" statement in large lettering at the bottom. I got this invoice and I really had no clue how that could have happened. I logged onto the online data usage tool, and it didn't even agree with the figure on my invoice; it was only after getting a copy of the raw table data from Vodafone support (a process which took several weeks) that I was able to load this data into a Postgres database, and reconcile what had happened with some SQL queries. Again, yes, I could have noticed on Vodafone's pricing schedule, and seen that the price for Vodafone network usage was just as price-fixed as the next network. I guess if I'd have thought about it or researched it, I could have realised that Vodafone NZ Ltd is not technically the same network as Vodafone Italia or Vodafone UK or whatever. But really, there are multiple very serious communication issues going on here. There is no room for argument that the level of communication is acceptable;
Registering on any overseas network should always notify you of the applicable rates, not just on non-Vodafone networks.
As mentioned in the other claim, invoices should detail usage by date, country and network operator, to make it clear how much use is being invoiced for.
The usage meter tool should carry a warning message that the information may not be up to date (or may be weeks behind, as in my case)
Messages sent saying that I am using data from my $10 for 100MB data pack when in fact I am paying $10 for every 1MB for that usage are misleading, in fact constitute a material breach of the Fair Trading Act on their own as far as I'm concerned.
On the basis of this miscommunication, I am claiming that none of my usage on overseas Vodafone networks is a fair fee for services.
Summary
Vodafone have yet to respond meaningfully to the letter I wrote to them (actually, the JP-sighted statutory declaration I served to them via registered mail) in September, outlining my issues with the bill they had sent me. I offered to pay $322.76 for the use that I did incur over the time, being the original amount with the two categories detailed above removed.
My declaration to them makes essentially the same points I lay out in this post. All I got was a phone call from some tool who obviously disagreed on behalf of Vodafone NZ with everything I wrote, though of course could offer no reasonable basis for this. I told him to come back with an offer close enough to my $322.76 for me to consider just accepting it.
There used to be a day where they would write off charges like this entirely, but it seems those days are over. They came back with an offer of a 25% discount. I told them I'd see them in court.
They basically ignored my claim and even referred my overdue amount to a debt collector. I called up that company and asked them if that was normal when there is a pending court case for it; they said that no, that Vodafone should really not have referred the amount to them.
My court case is to be heard in the Wellington Disputes Tribunal tomorrow (Monday 13th December) at 1:30pm, case ID DT CIV-2010-085-001035